Leadership Workshops For Creating An Irresistible Workplace Culture
Solutions for Success
True success comes from creating a work environment where employees feel valued and fulfilled. And where everyone in an organization
is focused on the same goal, with the skills
and tools for success.
Our leadership workshops provide practical
solutions for helping staff work together, take ownership, and improve their productivity and performance. We offer half-day and full-day options, to allow ample time to explore the topic and practice the techniques presented.
If you're looking for a fresh perspective or things just aren't clicking, take a look at our solutions for success:

Leadership Workshop Topics
These workshops are customized to meet the needs of any size group. We conduct optional pre-meeting surveys, interviews, or assessments to tailor the workshop to your team's responsibility level, skills, and needs.
Add value to your organization by empowering your employees to take ownership of their careers and
their reputations.
No organizing tips here—discover powerful strategies for getting your staff to work together to create success.
Take control of your work day and save up to 10 hours per week while getting more done!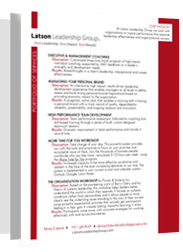 Download Portfolio of Services
PDF Download, 590kb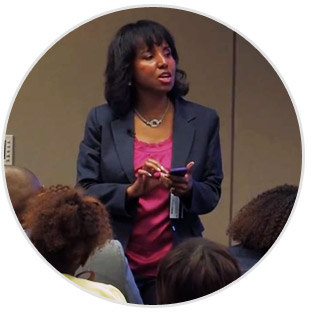 Alesia Latson: Real Experience
Alesia Latson, principal and founder of Latson Leadership Group, specializes in time management, leadership, and organizational development. She has more than 20 years of experience practicing, studying, and teaching, and is currently a faculty member at St. Joseph's University. As a presenter, Alesia has a magic that connects her to audiences and motivates them to action.
Alesia is co-author of More Time for You: A Powerful System for Organizing Your Work and Get Things Done.

What People Are Saying
We wanted to run her successful "More Time for You" program…Alesia provided a nice format for email organization and work time management… She is a very personable, high energy and dynamic person… She can quickly relate things participants say to what is happening in the wider business world…"

—M. O'Connor, New Balance
We brought Alesia as a Personal Brand expert for our IT Leader Development Program… Alesia "wow'd" the crowd and did a very nice job engaging the participants… What makes Alesia unique is that she is a dynamic presenter with a lot of heart. Participants gravitate towards her… she just has a nice presence."

—R. Levy, Babson Executive Education
Create a workplace culture your staff will brag about!
Contact Alesia at (617) 356-8128.