More Time For You* Time Management Workshop
"There are never enough hours in the day!"
How many times have you heard or thought this? With personal and work demands, and the stress of managing an avalanche of emails, it's easy to become overwhelmed and feel like there's not enough time to do the things you have to do, let alone the things you want to do.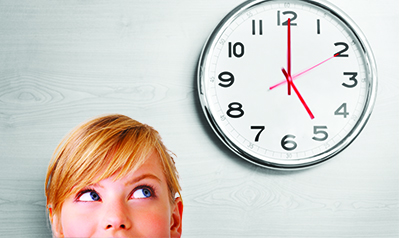 More Time For You is a time management workshop based on Alesia's book by the same name. The program delivers new techniques for prioritizing and accomplishing tasks. You and your staff will be able to get more done in less time. In fact, previous participants report the concepts learned through this program save as many as 5-10 hours per week!
Get new insights into the ways of working that either help or hinder performance.
Special consideration is given to managing electronic communications.
Discover how to adjust to the demands of today's fast-paced, hyper-competitive global marketplace.
Do more in less time, so you can focus on what really matters.
*More Time For You is a registered service mark of Latson Leadership Group, Inc.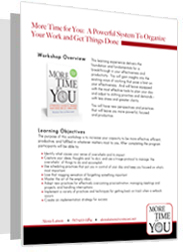 Download The More Time for You Workshop OneSheet
PDF Download, 436kb
More Time For You Book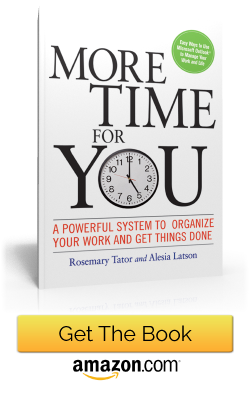 Ever have that nagging feeling that you're forgetting something you're supposed to do? Do you feel like you're drowning in emails, paperwork, meetings and phone calls? Is your calendar filled with commitments to others, leaving no time for you?
Take charge of your day and get more out of it with More Time For You. This proven system will help you prioritize your responsibilities, use technology efficiently, and get organized (and stay organized).
Discover how to:
Maintain an empty inbox
Address distractions and interruptions
Get rid of techniques that don't work,
like "multitasking"
Manage your calendar using tools you probably already have
Maximize the power of social media
Get more done in less time, so you can do more of the things you want to do!