TEAMUP℠—Executive Team Coaching
Develop an Effective Leadership Team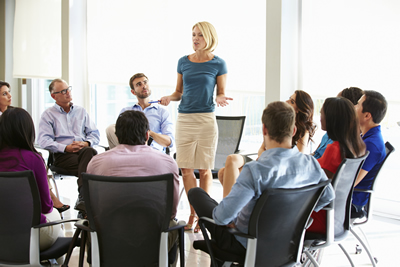 An executive team's effectiveness and leadership culture sets the tone for the rest of the employees. This means that a company is ultimately only as successful as its leadership team.
But working effectively as a team can be difficult. Communication barriers and differences in priorities can lead to conflict and unnecessary challenges. It often takes a neutral third-party to look at the system objectively and figure out where breakdowns in the system occur. Once the challenges have been identified, solutions can be created to get the team back on track.
TEAMUP℠ is a research-based approach to team coaching. The program is built around four key principles:
The executive team is a living system
The system has rules of behavior
Those rules are mostly unspoken but strictly observed
The system doesn't always function at its best
The program focuses on both the individual and group levels, and helps the team identify and overcome the kinks in the system.
Six Tangible Outcomes of TeamUP℠
A definition of success created by and for the executive team
Clarity about the strengths and challenges of the executive team
A team contract with guidelines for how they will work together
A concrete plan for improvement in areas identified by the team
Greater general self-awareness for each team member
New team processes to support desired changes
Important Considerations

This is an in-depth, ongoing process that takes more than a couple of days or weeks. Your executive team, despite their level of experience and stature in the organization, will need accountability. There also needs to be opportunities to practice the techniques learned. A reliable, consistent support system helps ensure success.

How it works

The TEAMUP℠ program begins with evaluating the system using qualitative and quantitative assessments. The review includes both the individual team members and the team as a whole. Then Alesia creates an off-site experience with team exercises, facilitated discussions, and work sessions. The team is observed while participating in real dialogue that relates to the organization.

Then, a plan is created to translate the team's learning into action. The new information will be reinforced and new behaviors will be formed. Executives will come away with better processes to create a more effective leadership team.
TEAMUP℠ is a registered service mark of Latson Leadership Group, Inc.